Every life is full of moments of transition, newness, and important markers on the journey. The most well-known and commemorated include weddings and funerals. If we widen the view, we see an abundance of turning points, resting points, and transformative events that have shaped us. Marking these moments with intentionality, ceremony, and ritual can deepen their meaning and help us to honor both what is past, what is new, what is now. I can help you commemorate the important moments in your life. Using your unique story and desires, I will create a ceremony that reflects your deepest self in the way you want to express that tender and beautiful self.
Any event that marks your soul may benefit from ceremony and ritual. By immersing milestone moments in ceremony, you may deepen your commitment to live in a way that reflects your heartfelt values and ideals. Some events are traditionally commemorated with ceremony. Others are less conventional or hardly noticed. You know what moments in your life call for deeper commemoration. The following are some possibilities.
Soul Song Ceremonies LLC is inclusive; it is my joy and honor to serve BIPOC, LGBTQ+, people of all races, and military individuals and families.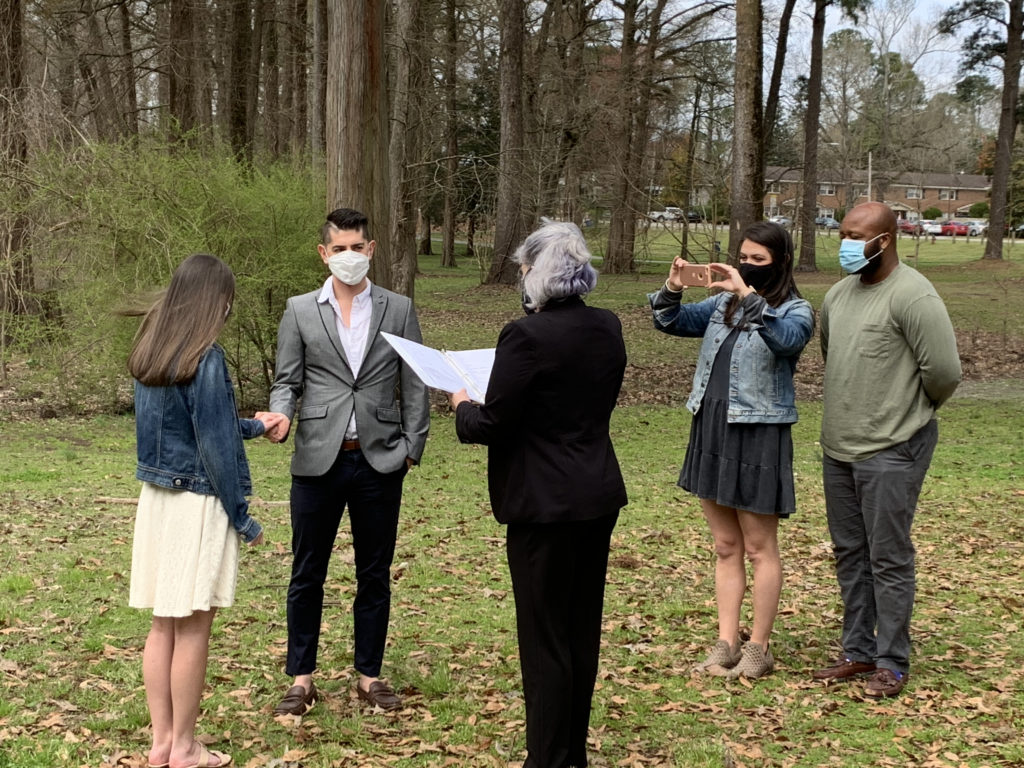 A wedding marks the moment of union between people who come together with intentionality and love. This ceremony, with your love story at its heart, reflects and honors who you are and who you want to be in relationship with each other.
Engagements
An engagement is a significant step toward a new union. It is a moment full of hope and promise. Marking this moment with ceremony honors the deep commitment being made by beloveds.
Vow Renewals
There are moments in a marriage where it can be life-giving to remember with intention and care a commitment made, and to re-commit to moving forward together, with a deepening bond, into the future. A vow renewal honors all that has gone before, all that is now, and all that is to come.
A memorial service honors the one who has died and gives witness to the lives touched and shaped by them. It also begins the process of moving into a world forever changed. A memorial ceremony tells the story of that singular life even as it provides space for grief, complex emotions, and celebration of the gift of life.
Baby Blessings & Welcomings
A new baby brings a whole new shape to a family. A baby welcoming or blessing ceremony formally and joyfully welcomes a new life into the world and into a community of love.
House and Apartment Blessings
The transition into a new living space can be joyful and exciting, and also stressful. You can mark this moment with a blessing ceremony that honors your desire to make this new home a place that reflects what is most important to you.
Intentional Separations
When a couple decides to separate, one or both of them may want to leave their relationship as intentionally as they came together. Ceremony and ritual can mark this passage with tender care, honoring what once was and what now might be.
Milestone Birthdays
Birthdays can be ho-hum, joyous, shocking. They can be a time to reflect on your life thus far, and to consider how you want to live going forward. Any birthday might be a milestone to mark with ceremony and ritual as a way of opening yourself to what you want to leave behind and what you want to hold as you move into your new age.
Retirements
This is a major change for many people. Marking it with ceremony and ritual can help to commemorate this transition, what is being laid down, what lies ahead – and all of the feelings that come with this passage.
Job Transitions
A change in jobs can unveil reflections and feelings about your work life – what it gives you and how it shapes you. Ceremony and ritual honors the fruits and costs of your labor.
Health and Illness Journeys
A major illness often creates a new perspective and opens up new possibilities. Ceremony and ritual in a moment like this can offer support as well as space to express the range of feelings that arise.
Queening, Crone and other Rites of Passage
Women have many stages of life and rites of passage. Maiden, Mother, Crone – these are fairly well-known. A somewhat new stage: Queen. Coming between Mother and Crone, this honors a woman in, approximately, her 50s as she steps into a stage where the experience and wisdom she has gathered thrives. Rite of passage ceremonies for men and non-binary people are also available.
Your Ceremony, Your Story
Your story is at the heart of any ceremony. I will take the time to learn about your story and what is most important and meaningful to you. That will be the heart of a ceremony that reflects who you are and how you want to live and honor this special moment.
Any ceremony I do for you can include any personal elements that are meaningful to you, and it can be as secular or religious as you would like. The ceremony I create with you will be yours to keep as a forever reminder of your special day.
Prices available on request.